Cosmetics is the most important and most seeked requirement of the patients. And we take maximum care to give optimum and the best cosmetic solutions to our patients in Ahmedabad.
TEETH WHITENING:
laser teeth whitening: most advanced research in teeth whitening is the use of LASERS. We use lasers in our centre in many ways and one of them is lasers which we have found to be very effective, fast and without any side effects.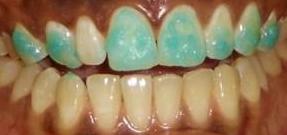 zoom whitening: we also use zoom whitening system which whitens your teeth within one hour. It's also one of the most recent trends in cosmetics.
SPACE CLOSURES BETWEEN TEETH:
When there are natural spaces between the front teeth, the overall smile is comporomised. To stop the embarassment, we can close the space between the teeth which can bring your healthy and happy smile back.
the space like this is quite un-presentable. But, we can correct this space without damaging the tooth structure to give the natural appearance as shown below.
VEENEERS/METAL FREE CERAMICS:
ceramic veeners or the porcealing veeners are the best way to hide the natural dicolorations or mal-alignment of the teeth. We just need to give the veeners on the front six teeth in the upper and lower teeth to give the optimum result.
CAD-CAM TEETH:
COMPUTER ASSISTED DESIGN-COMPUTER ASSISTED MILLING. The best and again the latest innovation in the field of dentistry. We are one of the pioneers of the advanced dental treatments in Ahmedabad. In this technique, we just take the snap of the surrounding teeth and the missing teeth area, scan it and send it to the CAD-CAM machine. Then the computer designs the teeth three dimensionally and mills automatically under our supervision and the metal free (zirconia) based ceramic teeth ready to be fitted on the patient. We bet on it that nobody can challange the cosmetics and the accuracy in this technique.
TEETH JWELLERY/DIAMONDS
We are the pioneers in changing trends in cosmetic dentistry in ahmedabad and may be the whole of Gujarat. Well, for this not only our patients say these, but the media also says the same thing. The latest amongst these is diamonds on the teeth. We were interivewed by the national newspaper for the trends in the cosmetic dentistry and they were so amazed that they published our article on the front page of the newpaper.
We are using the world's best SWAROVSKI DIAMONDS.
The best part of this is that we do not drill the tooth structure and just glue it on the tooth. And above all, the beauty is that it can be removed easily in just two seconds and the original tooth shows as it was. And even if accidentally, diamond is swallowed, don't worry, every thing we use is edible........
YOU JUST NEED TO SHOW US YOUR SMILE, WE SHALL DESIGN IT AND MAKE IT THE BEST............